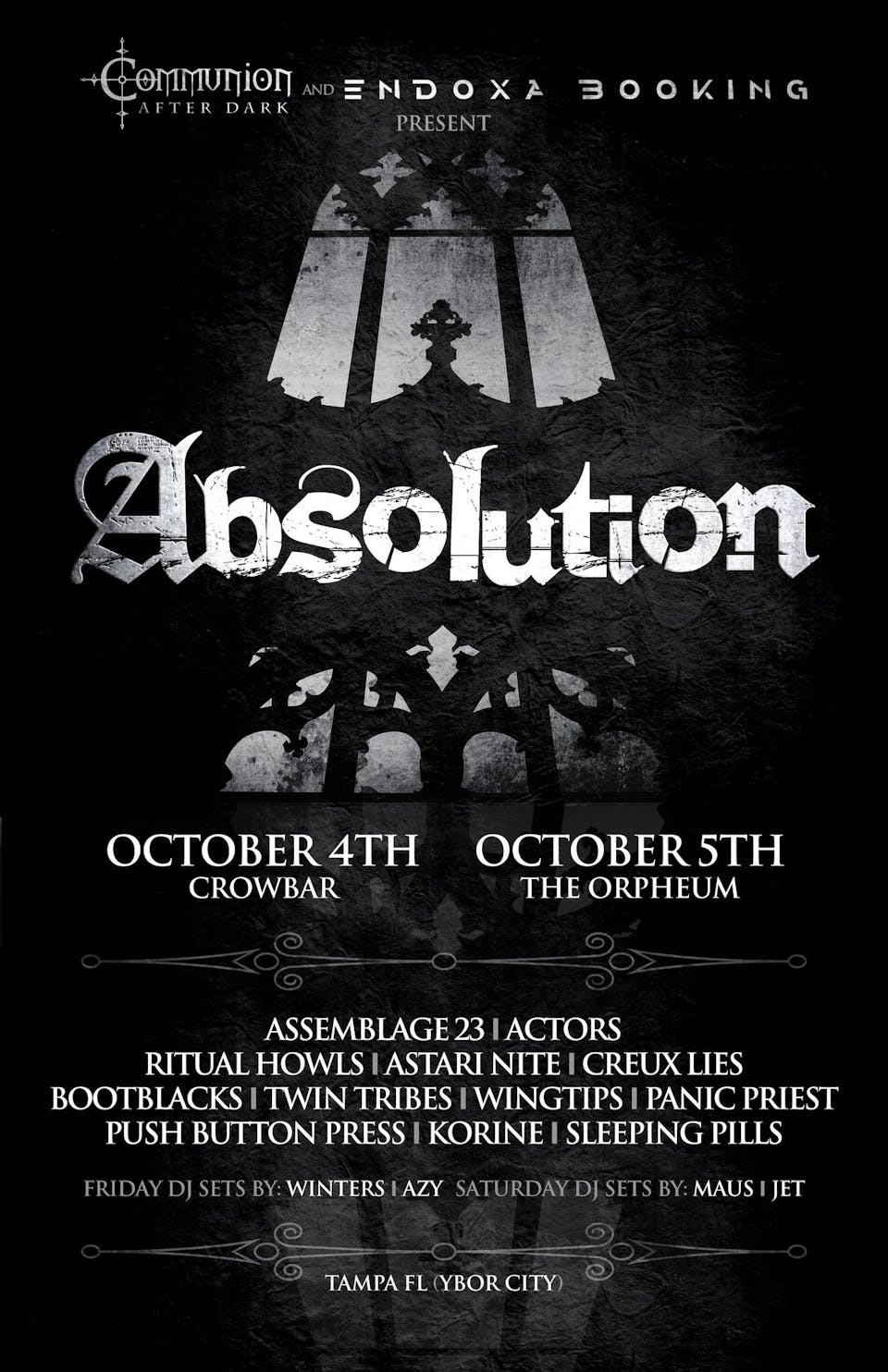 Endoxa Booking and Communion After Dark Present
Absolution Fest
Absolution Fest
Tampa
,
FL
$25.00 - $60.00
Sales Ended
Absolution Fest
Actors, Assemblage 23, Ritual Howls, Astari Nite, Creux Lies, Bootblacks, Twin Tribes, Wingtips, Panic Priest, Push Button Press, Korine, Sleeping Pills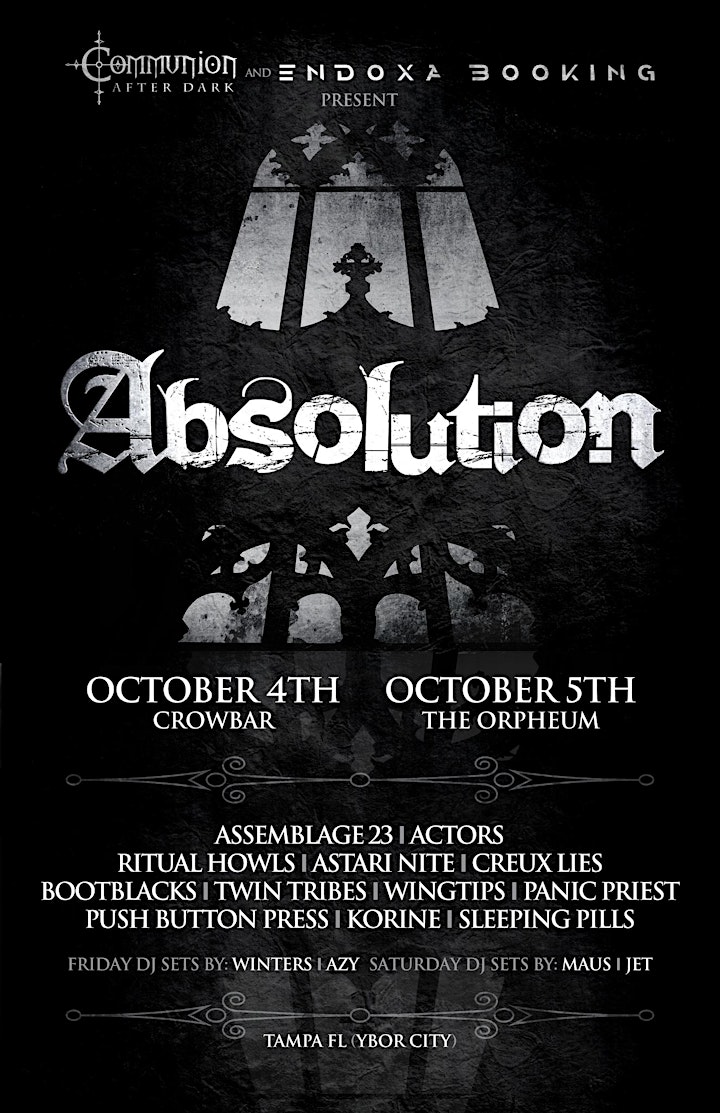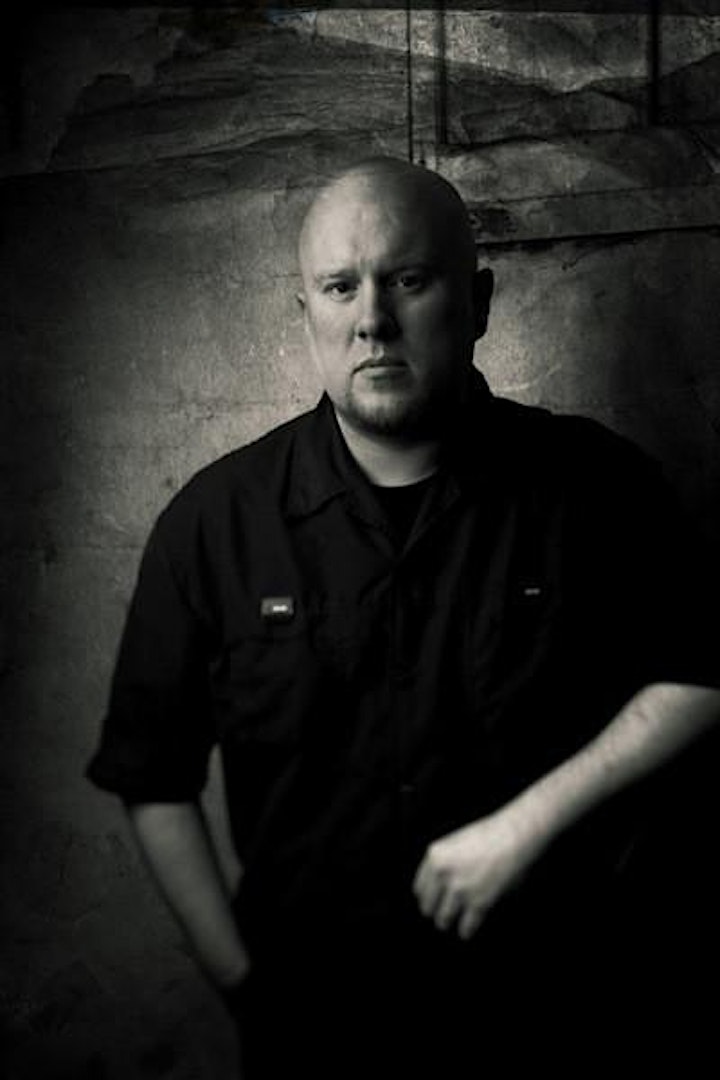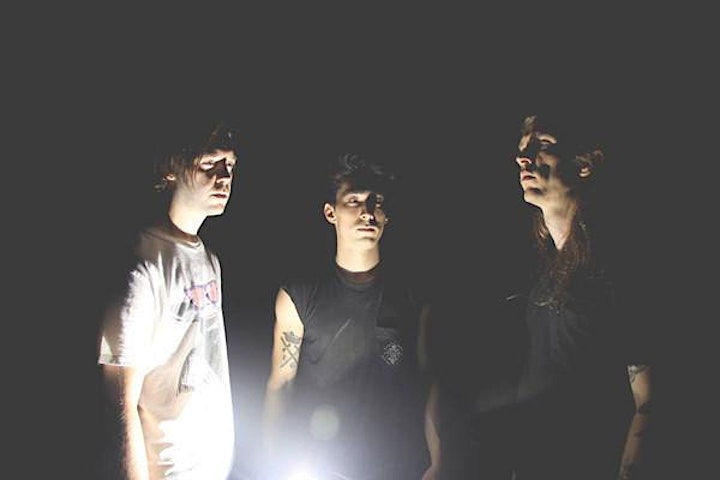 RITUAL HOWLS
"Detroit's Paul Bancell, Ben Saginaw and Chris Samuels are Ritual Howls. They collect samples of the physical world and feed them with guitar, vox, bass, synth and drum machines to create an aura of darkness over a pop sensibility. Paul Bancell provides lyrics that Lovecraft would approve of while Chris Samuels and Ben Saginaw provide sounds that bring his macabre tales lurching into the world of the living. Collaboratively, Ritual Howls create a surreal, introspective gloom that could fuel a disco in hell, a soundtrack to your favorite nightmares and most grisly fantasies." (Facebook profile info)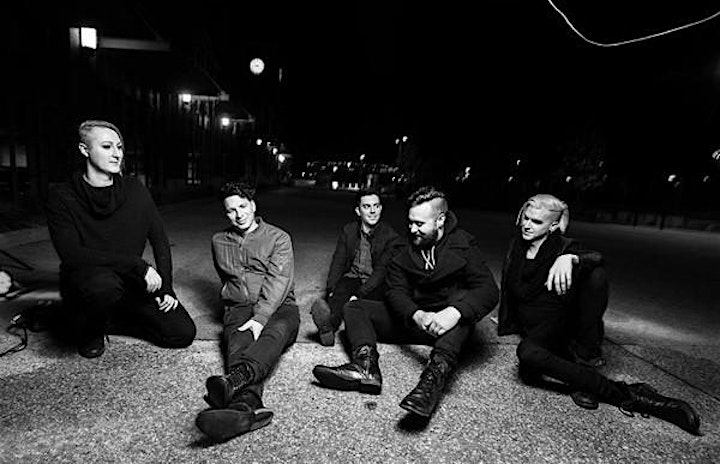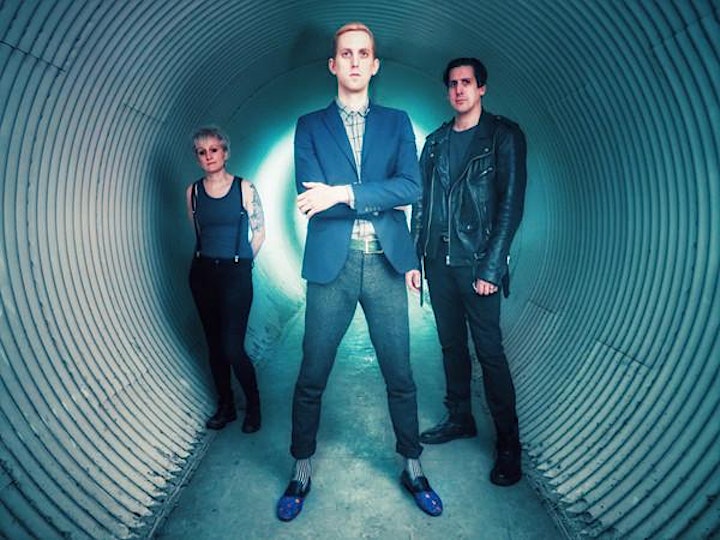 BOOTBLACKS
Since the group's founding in 2010, Brooklyn based Bootblacks have been enthralling audiences with their frenetic live shows from the U.S. to Europe. Their sound is described as a balance of contradictions: both pensive and buoyant, referential and modern. Fitting, as the Bootblacks name is derived from novelist William Burroughs' description of the dark underbelly of glitzy New York City.
Vocalist and frontman Panther Macdonald lists an eclectic set of influences: Depeche Mode, New Order, Simple Minds, Echo & the Bunnymen, early U2 as well as the Beatles & Bowie for lyrical inspiration.
Bootblacks released their first EP "Narrowed", in the fall of 2012, after previously collaborating with Jim Sclavunos (Nick Cave & the Bad Seeds). Macdonald and guitarist Alli Gorman recount the collaboration with Sclavunos as a "life-changing" one that informs Bootblacks music to this day.
"Veins" was released in 2016 and was described as a step in the band's evolution from punk to post-punk. With their influences always expanding, the band is never complacent in what makes up their sound.
With the addition of Barrett Hiatt (The Harrow) in early 2017, the band began work on "Fragments", which was released via french label Manic Depression Records in September of 2017. The effort found the band further diving into a more synth heavy, atmospheric and "bigger sounding" Bootblacks than before.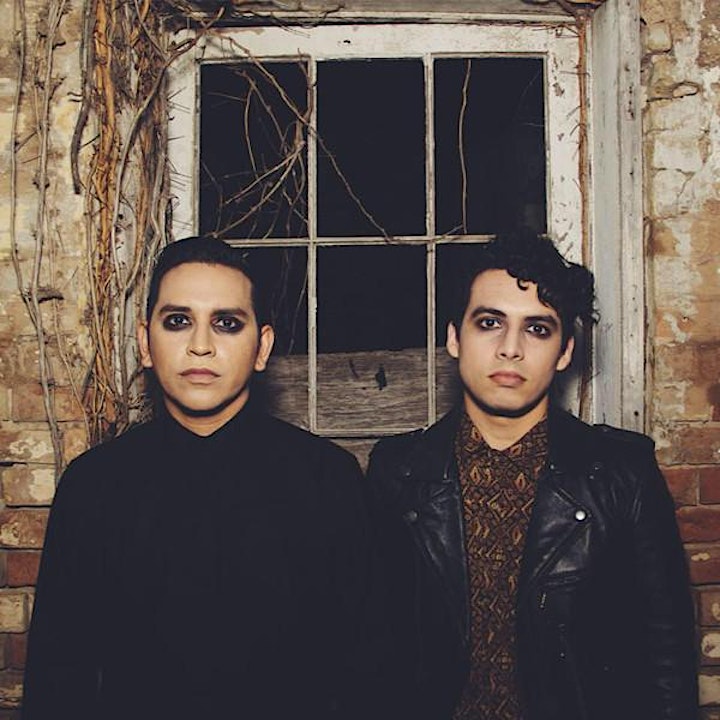 TWIN TRIBES
A darkwave duo of Luis Navarro (Vox/Guitar/Synth) & Joel Niño Jr. (Bass/Synth) from Brownsville, Texas. The band's tagline is "Dark melodic sounds, synthesizers, lyrics about the undead, the occult and parallel universes."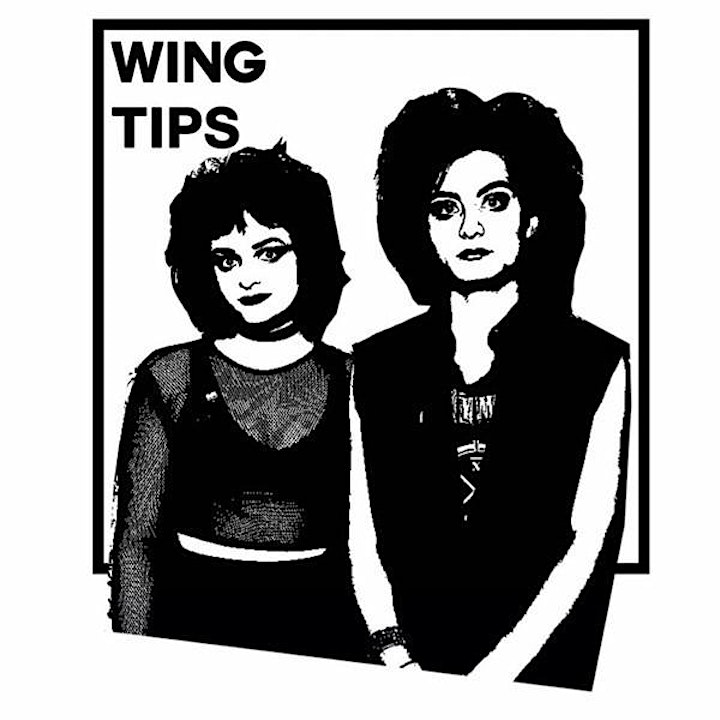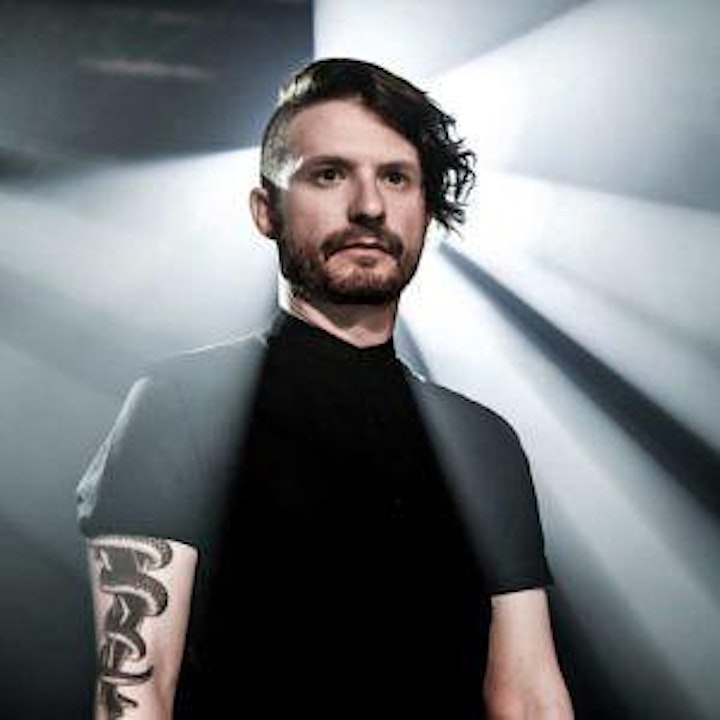 Venue Information:
Absolution Fest
Multiple Venues
Tampa, FL